Locksmith Seatac
RESIDENTIAL LOCKSMITH SERVICE
Was your home recently burglarized? Did the crooks get in by breaking through the garage door? Would you like a simple, inexpensive way to prevent this from happening again?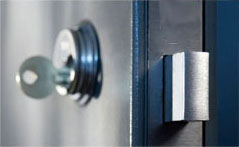 Do your children get home before you leave from work? Are you worried about their safety during the time that they are home alone? Would a home video surveillance system be of interest to you?
Did you purchase a condo through a foreclosure auction? Now that you have closed escrow, do you want to have the locks re-keyed for security purposes?
Call Now: (425) 880-2510
For professional residential locksmith service from the best lock and key company in SeaTac, WA., be sure to call on Locksmith SeaTac. We have proudly been serving the local area for many years. Our licensed, bonded, and insured home locksmiths are highly trained and fully certified. With over 27 years of combined home locksmith experience behind us, there isn't a residential lock mechanism that we can't install, service, replace or re-key.
Our friendly locksmiths are all background checked and drug tested. You can have confidence and peace of mind when you call a lock technician from SeaTac Locksmiths. Not only are we highly trained and experienced, we are affordable and mobile as well. That means we come right to your home, and do quality work at great prices. We can do everything from make key copies to biometric entry system installation. Choose from residential locksmith services like:
Gun safe locks
Pool gate and fence locks
High security residential lock installation
Video surveillance
Biometric entry systems
Replacement of lost home keys
Door and window lock re-keys
Garage locks
Home door re-keys
Broken-off keys removed
Damaged locks repaired
Mailbox locks
Master key systems
Access control systems
Decorative locks
Deadbolts and peepholes installed
Mortise locks
For trustworthy and dependable locksmith service at home, call Seattle, Washington's best, and most qualified technicians – Locksmith SeaTac. We offer free estimates and round-the-clock availability. Call today, and see what a difference we can make at home!
Call Today: (425) 880-2510